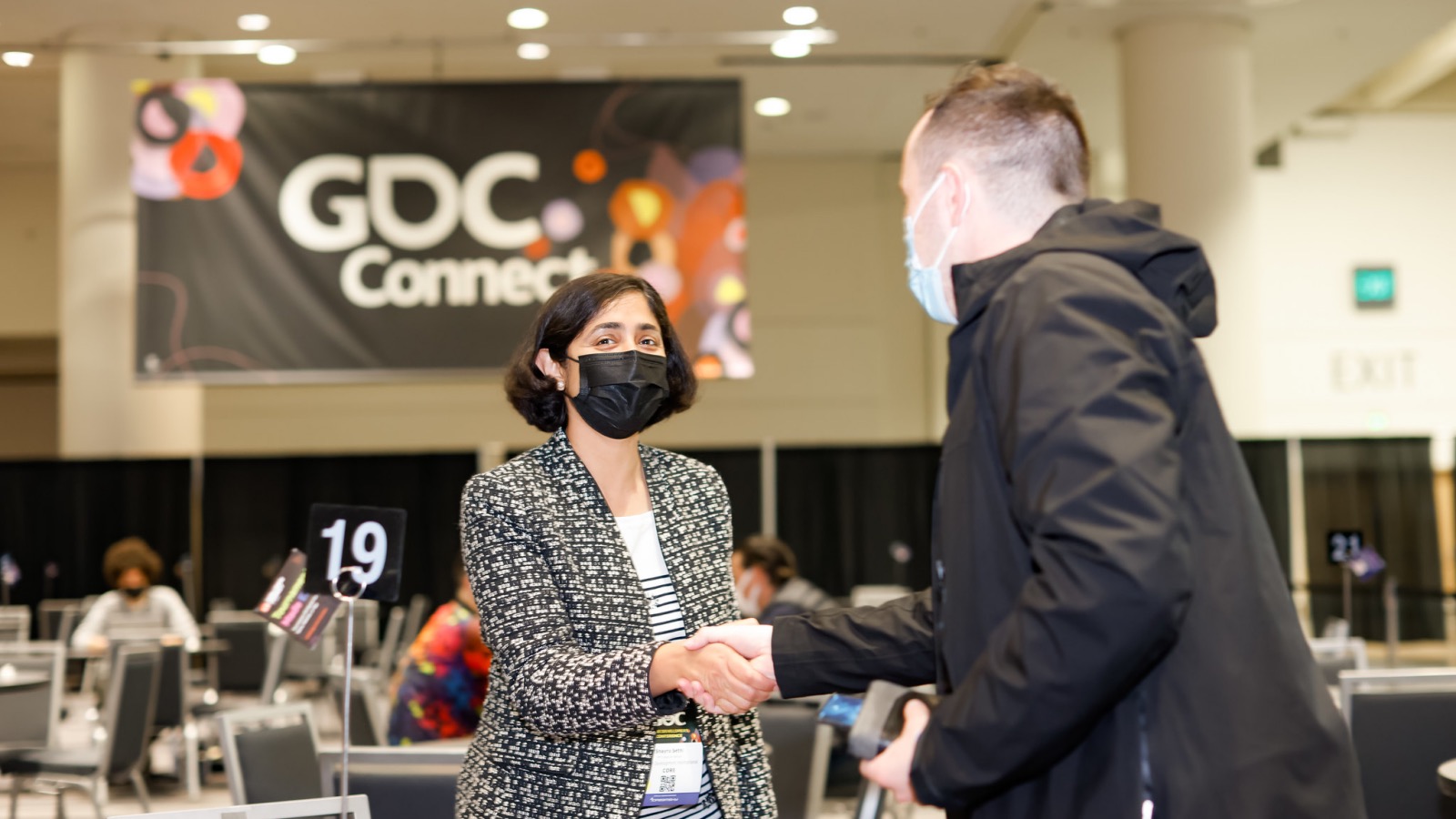 Grow in the industry with this guide on GDC 2023 career sessions
The Game Developers Conference isn't just about standout sessions and events: It's also where careers get made. Whether you're starting in the industry, growing your career, recruiting new talent, or retaining your workforce—this handy Session Guide and Walkthrough will help you make the most of your GDC 2023.
In our Game Career Development track, discover strategies for pitching your game, effective communication, how to land an investor/publisher, business development, and how to build your career in game development directly from industry experts.
The 2023 Game Developers Conference features hundreds of sessions—covering nearly every discipline, topic, and focus that matters to game developers today. It can be hard to choose! That's why we've created this helpful guide.
It features some standout sessions, panels, and events dedicated to helping your career and company growth efforts. In addition, we've got tips on making the most of your GDC (whether you're job seeking or recruiting), and links to GDC Vault videos and Game Developer articles that will help you get pumped for GDC 2023.
Be sure to visit our Session Viewer for a full list of Game Career Development talks at GDC 2023 and get started on prepping that schedule (we will update with dates and times as they become available).
Session Picks for: Career Development
The Language of Leveling Up: Crafting Your Unapologetic Career Stories
Jean Leggett (Career Strategist, Jean Leggett Consulting Inc)
Pass Type: All Access Pass, Core Pass, Summits Pass, Expo Pass, Audio Pass, Independent Games Summit Pass
Description: "This talk guides attendees through proven frameworks and resources for undertaking a needs-gap analysis for career planning, mastering professional language for senior and leadership for resume/CVs, and commanding higher salaries with effective negotiation techniques."
Add Senior to That Title: Real Career Talk
Ben Schneider (Professor of Practice, Worcester Polytechnic Institute)
Pass Type: All Access Pass, Core Pass, Summits Pass, Audio Pass, Independent Games Summit Pass
Description: "The real difference between entry level and senior (or even lead!) is not what most people think. By turning career advancement on its head and focusing on how teammates are surprisingly the most important ingredient in teams, the game of getting ahead turns into a collaborative path of iterative growth."
Being a Unicorn: Multiclassing in an Industry That Wants Specialization
Alexis De Girolami (Lead Game Designer, Electric Manta)
Theresa Duringer (CEO, Temple Gates Games)
Kimberly Unger (Strategic MR Lead, Oculus VR)
Virginia Smith (Senior Gameplay Engineer, PeopleFun)
Kate Compton (Asst Prof of Instruction, Northwestern University)
Pass Type: All Access Pass, Core Pass, Summits Pass, Expo Pass, Audio Pass, Independent Games Summit Pass
Description: "The majority of job postings in games are for single roles: programmer, game designer, artist. Yet there are some people with talents in multiple areas. If you are in this situation, how do you find a job and build a career when you can do more than your job description allows?"
Game Career Seminar: Killer Portfolio or Portfolio Killer Part 1 (Panel) and Part 2 (Portfolio Reviews)
Greg Foertsch (Creative Director, Bit Reactor)
Pass Type: All Access Pass, Core Pass, Summits Pass, Expo Pass, Audio Pass, Independent Games Summit Pass, Friday Only Pass
Description: "This panel consists of art directors and lead artists from major studios who will help expose portfolio pitfalls and how to avoid them, as well as provide real-world examples of how to succeed in getting, and holding, an art director's attention. It will be followed by a multiple-hour session for individual portfolio reviews."
Session Picks for: Company Growth
Talent Shortage and New Ways To Rethink Hiring: How Do You Fit In
Cami Smith (Recruiter, ggLocators.com)
Alejandro Rodriquez (Principle Recruiter , Probably Monsters)
Miquel Calderon (Creative & Technical Recruiter, Games Platform, Netflix / Game Studios)
Iris Moon (Managing Director, ggLocators.com)
Niccole Minka (Recruiting Manager , Crystal Dynamics)
Keith Guerrette (CEO , Beyond-FX)
Pass Type: All Access Pass, Core Pass, Summits Pass, Audio Pass, Independent Games Summit Pass
Description: "This recruitment team will break down the current state of hiring in the industry. Find out answers to the following questions and more: How can your company stay competitive? How can your company grow diverse and inclusive game development teams? How can you hire from other industries?"
Lost XP: Why Junior Game Developers Quit and How to Help
Johanna Weststar (Professor, Western University)
Jakin Vela (Executive Director, International Game Developers Association (IGDA))
Sarah Spiers (Director of Global Development, International Game Developers Association Foundation)
Pierre-Luc Labbée (President, rhum.hr)
Pass Type: All Access Pass, Core Pass, Summits Pass, Expo Pass, Audio Pass, Independent Games Summit Pass
Description: "There are ways educational institutions and the industry as a whole can do better in terms of recruitment, training, and retention. This panel examines recent empirical data, existing industry interventions, and explores new solutions to keep talented and diverse game developers in the industry."
Career Progression and Value: Set Your Teams Up for Success
Hannah Mackintosh (2D Artist & Discipline Lead, Cerebralfix)
Pass Type: All Access Pass, Core Pass
Description: "While every team is different, there are common practices that can improve our workplaces for individuals by ensuring they feel valued and have a clear path to career progression. Developing your studio's process of support takes effort and commitment, but it's well worth the investment!"
Cultivating a Positive Work Culture
Renee Gittins (General Manager, Phoenix Labs)
Pass Type: All Access Pass, Core Pass, Summits Pass, Audio Pass, Independent Games Summit Pass
Description: "Hear about the best practices for developing and sustaining a positive and productive team through proactive culture development."
5 Tips for Making the Most of Your GDC
1. Complete Your Swapcard Profile: GDC is once again using Swapcard as the go-to system for all GDC networking activities. Make sure to fully complete your profile once available (in mid-March) to request meetings with any fellow attendee registered through Swapcard. You will be able to search other attendees by job title, professional interest, and other filters.
2. Attend a Speed Networking Session: There are many ways to network at the Game Developers Conference, like using Swapcard (once available) to set up meetings in our Connect Lounge. But if you're looking for variety and entertainment, join one of our Speed Networking sessions! These are one-hour sessions where attendees rotate around the room, meeting new people and making connections. No pre-registration is required and attendance is first come, first served.
3. Plan Your Expo Floor Tour: The GDC 2023 Expo Floor features hundreds of booths and exhibitors, and many of them are seeking to grow their talent pools (or are promoting their services). Be sure to visit our interactive Floor Plan so you can map out the spots you want to visit, and make sure to reach out to the exhibitors on Swapcard (once available) to request meetings at their booths.
4. Network in Our Community Spaces: It's time to rejoice: Community spaces are returning to GDC 2023! Not only are they a place to unwind during the day, they're also the perfect spot to network with industry colleagues and prospective employees. Head to our Floor Plan to see our community spaces throughout the Expo Floor, including interactive spaces for certain disciplines and the GDC Play Lounge.
5. Find a Mentor (or Mentee): One of the best ways to build your career, or help someone else's, is to participate in a mentorship program. GDC 2023 has sessions dedicated to helping prospective mentors and mentees connect, grow, and thrive—like the Mentorship Cheat Code: Raising Diverse Talent in the Games Industry panel and Breaking Down Barriers: How Great Mentors Become Even Greater Leaders with Ubisoft Toronto's Andy Schmoll. Attend these sessions and find out how mentorship can help your career, business, and life.
Watch and Read
VIDEO: Build Your Career in Games Like It's an RPG (GDC 2022)
"Seasoned game developers from Phoenix Labs, USC Games, PUBG Corporation, and Wizards of the Coast share their non-linear career paths in games."
VIDEO: Interview Wizardry (GDC 2022)
"This talk focuses on hiring from the company's perspective, how to prepare your resumé and what resumé rules don't matter, how must interviewers are untrained, and what psychological rules you can use to not only get an edge, but rewrite their perception of the job and give yourself seemingly impossible boosts."
VIDEO: Tips From the Trenches: How To Help Recruiters and Hiring Managers Get You In The Door (GDC 2022)
"Panelists paint a picture behind the scenes of the hiring teams that help coordinate candidates, sharing how to navigate the hiring process, what you should and shouldn't do when applying for a job, what can make your application and interviews rise to the top of the candidate pool, and more."
ARTICLE: The Developer's Renaissance: 3 leaders on life and career in games (Game Developer)
Kris Graft (Contributor)
"During GDC 2022's 'Main Stage' event, titled 'The Developer's Renaissance,' leaders from Eidos-Montreal, PlayStation, and Devolver reflected on social justice, shipping games through a pandemic, and their own careers."
ARTICLE: How I Started Career In Video Game Development (Game Developer)
Game Developer Staff
"The video game industry can be a challenging one to break into for designers and developers. But by choosing the right degree program, preferably one focused on experiential learning, you can build the skills you'll need to kickstart your career."
ARTICLE: Should I pitch or self-publish? (Game Developer)
Joe Slack (Blogger)
"One question I hear all the time is, should I pitch or self-publish my board game? It's not an easy question to answer, as there is a huge difference between designing a board game and publishing one. Let's dive into what each method entails."
Watch more Game Career Development talks on GDC Vault here.
This is the first in our series of Session Guides for GDC 2023, with recommendations for sessions, events, networking opportunities, and more. Be on the lookout for guides for various disciplines and topics, as well as first-time GDC attendees! Of course, the only way to see these sessions, and so much more, is to sign up for GDC!
We can't wait to see you at GDC 2023, taking place March 20-24, 2023 at the Moscone Convention Center in San Francisco, California. Head here for information on booking a hotel and other travel inquiries, and follow the #GDC23 hashtag for the latest news and updates for this year's exciting event.
GDC returns to San Francisco this March 20-24, 2023, and registration is now open! For more information, be sure to visit our website and follow the #GDC23 hashtag on social media.
Subscribe to the GDC newsletter.
Get regular updates via Facebook, Twitter, LinkedIn, Instagram, Mastodon, or RSS.
Game Developer and GDC are sibling organizations under Informa Tech.