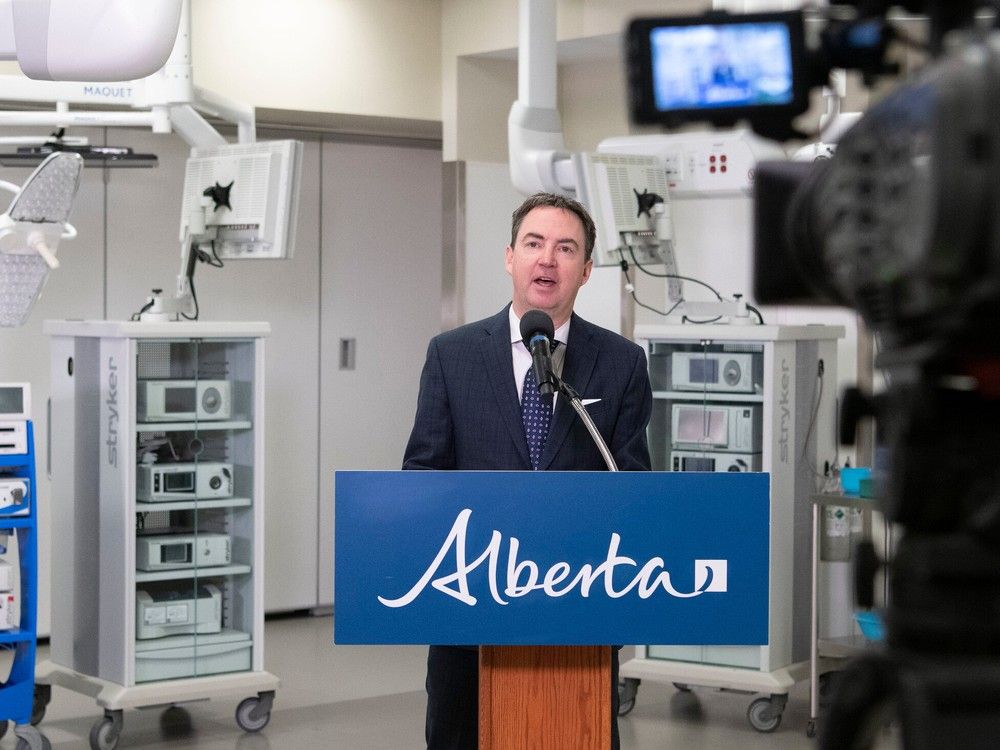 Opinion: Alberta's outsourcing surgeries experiment isn't working
Article content
In February 2020, the Alberta government announced it would spend $400 million outsourcing surgeries to for-profit facilities in the province through its then brand-new Alberta Surgical Initiative (ASI). The stated promise of the ASI was simple: with more providers in play, surgery numbers would go up and wait times would sink to tolerable levels.
Article content
Three years later, the data — mostly obtained through freedom of information requests — shows that a very different scenario emerged from the initiative. In a new research report published by the Parkland Institute, I demonstrate how not only the ASI failed to meet its stated objectives, but also, most concerning, the province's total surgical activity actually declined. Since the beginning of the ASI, the total number of surgeries performed in the province have declined to levels below those of 2014-2015.
Article content
Fewer total surgeries were performed in 2021-2022 (268,335) than in 2018-2019 (285,945), that is, pre-pandemic and before the ASI. Between 2018-2019 and 2021-2022, total provincial surgical activity declined by six per cent. Between 2018-2019 and 2021-2022, surgeries delivered in for-profit settings increased by 48 per cent while public hospital volumes declined by 12 per cent.
This reduction in AHS surgical volumes cannot be explained by the pandemic alone, since surgical activity in for-profit clinics increased between 2018-2019 and 2021-2022, and as other provinces have successfully increased surgical capacity. Declining funding for public operating rooms, as well as a reduction in staffed hospital medical and surgical beds per capita, suggest that the government's focus on increasing for-profit surgical activity has constrained hospital staffing and surgical activity. The province has prioritized for-profit surgical delivery rather than system improvement and fully utilizing the nearly 30 per cent of unused public operating room capacity.
Article content
Even as the ASI is failing to achieve its objectives, investor-owned surgical facilities are expanding through substantial contracts with government. These contracts increased from $17 million to $28 million between 2018-2019 and 2021-2022 — an increase of 61 per cent. The growth of the for-profit sector is likely to continue through substantial public subsidy.
In 2022-2023, the maximum value of all signed contracts with for-profit providers is $80 million. A new contract with Clearpoint — a national for-profit surgical chain — shows that AHS will be subsidizing this private-equity-owned corporation by up to $105 million through 2029. To support the growth of this industry and create certainty for investors, the Alberta government introduced legislation that risks entrenching corporate chains that will pull from the same limited pool of health-care professionals already in short supply.
The Canadian and international evidence indicates that for-profit surgical worsens public hospital staffing shortages by drawing on the public-sector workforce, destabilizing public hospitals, and making wait times longer. Data obtained from freedom of information suggests this is already happening. The expansion of for-profit surgical delivery also comes as new data from Quebec and Alberta show higher costs of for-profit delivery — as much as 2.5 times more expensive than public hospitals.
Article content
Evidence from B.C. also reveals that for-profit clinics and surgical chains are entrenching two-tier health care in Canada through unlawful extra-billing practices. Instead, by focusing on policy strategies based on research evidence, the Alberta government can reduce surgical wait times over the long term.
Centralized waitlists and team-based care models, making full use of existing public operating room capacity, better pandemic management and access to seniors' care in order to reduce surgery delays and health-system strain. To be clear, this requires the government to move away from its costly experiment with corporate medicine and fully commit to public investment and improvement.
Andrew Longhurst is a health policy researcher and PhD candidate at Simon Fraser University, and author of Failing to Deliver: The Alberta Surgical Initiative and Declining Surgical Capacity, a new report published by the Parkland Institute.